Jannik Sinner saved eight match points across his first two matches at the Miami Open presented by Itau, but on Tuesday he did not need to toe the limit so closely. The ninth seed played his best tennis against the red-hot Nick Kyrgios, defeating the Australian 7-6(3), 6-3 to reach the quarter-finals at Hard Rock Stadium.
"Today I raised a little bit my level," Sinner said in his on-court interview. "I had to, because he's a very aggressive player, especially when he serves well. I'm very happy about my performance today."
The 20-year-old made his first ATP Masters 1000 final one year ago in Miami on his tournament debut, and he is now 8-1 at the event. Sinner will next play Argentine Francisco Cerundolo.
In the pair's first ATP Head2Head clash, Kyrgios, who lost a combined nine games against seeded opponents Andrey Rublev and Fabio Fognini, seemed keen on making another quick start. Sinner was forced to save a break point in two of his first three service games, but he held on in those moments, and neither man lost serve in the opening set.
"I think when I saved a couple of break points early in the first set, it raised my confidence a little bit," Sinner said. "Then it was not easy on this one side where the sun was completely in the eye, which you have to manage a little bit the situation also."
BLOCKBUSTER from Sinner 🚀@janniksin #MiamiOpen pic.twitter.com/9H1QFjgwxy

— Tennis TV (@TennisTV) March 29, 2022
It all came apart for Kyrgios in the ensuing tie-break. Sinner gave him no free points early on, and the Australian then received a point penalty for unsportsmanlike conduct following chatter about the chair umpire. Kyrgios was unable to overcome that, eventually hitting a frustrated double fault to lose the set.
The wild card then smashed his racquet against his bag and the court, which led to him receiving a game penalty. That cost the Aussie dearly, as he was set to serve to start the second set. It essentially gave Sinner a break advantage to begin the second set, which the five-time ATP Tour titlist took full advantage of.
Kyrgios had some high moments, hitting a flurry of volleys on one point, finishing the sequence with a stunning drop volley. In the final game of the match, he also hit an impressive forehand volley on the full stretch against an approaching Sinner.
But Sinner was the more consistent of the two players, especially from his ground. His easy power prevented Kyrgios from controlling the action and put pressure on him to make poor shot selection.
"I think he's very solid on his backhand, which he plays very, very flat," Sinner said. "I tried to somehow move him a little bit, trying to make him a little bit off balance, especially trying to get as many balls in return games in the court, which today I think I did very well.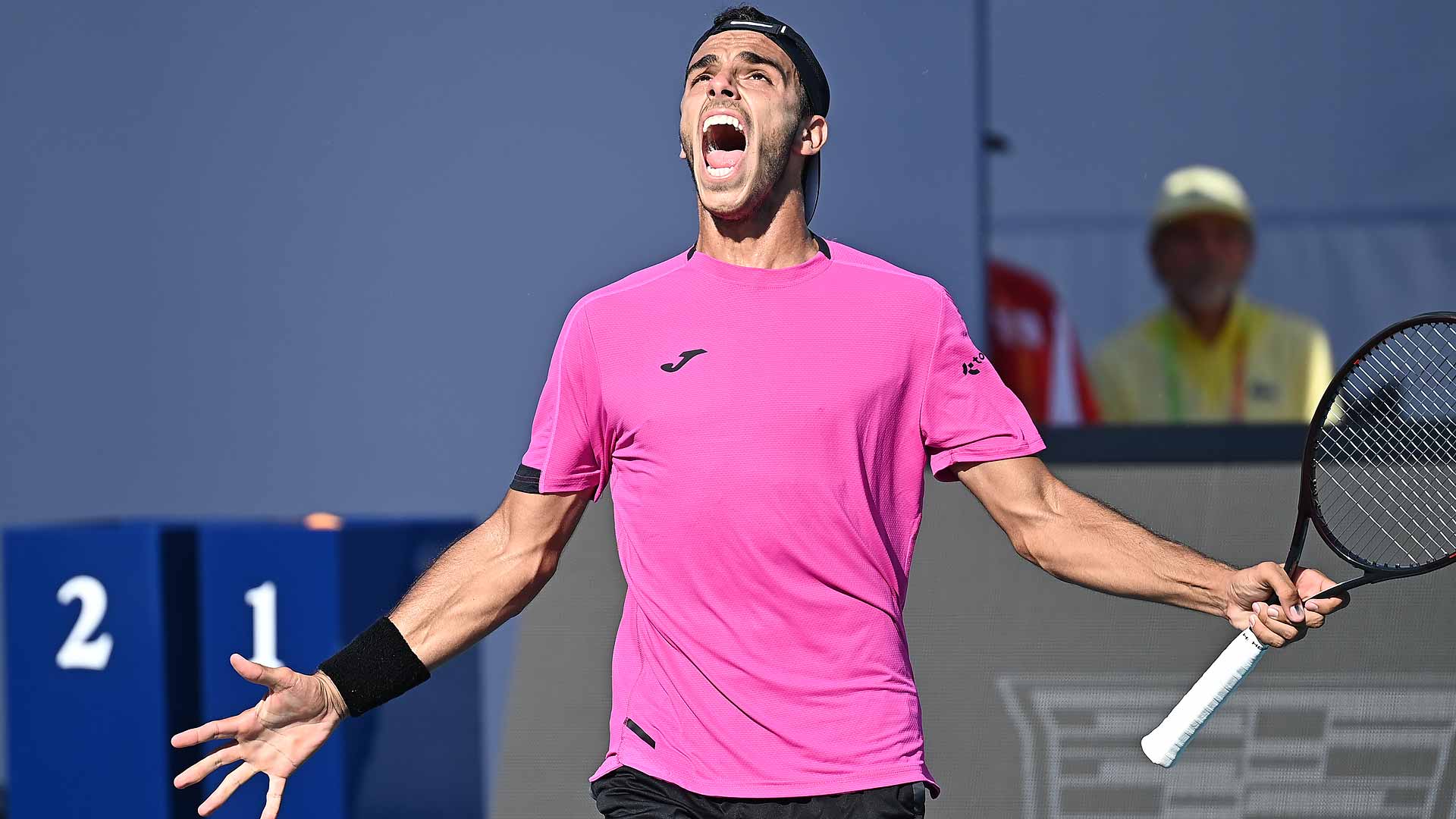 Photo Credit: Peter Staples/ATP Tour
Sinner's next opponent, Cerundolo, is enjoying a breakthrough at this level, which he continued with a 6-7(2), 7-6(3), 6-2 victory against 28th seed Frances Tiafoe.
This is the 23-year-old's ATP Masters 1000 debut. Cerundolo entered the tournament with just an 0-2 tour-level record on hard courts, but he has shown comfort on the surface with wins against Tallon Griekspoor, Reilly Opelka (second-set retirement), 22nd seed Gael Monfils and Tiafoe.
Tiafoe defeated Francisco's younger brother Juan Manuel Cerundolo 6-3, 6-2 in the third round, but the home favourite was unable to overcome the powerful forehand of the elder Cerundolo. That was the biggest shot on the court, and Tiafoe, who was ailing physically in the third set, was unable to find a way to claw back into the match.